iBuyer 12″ Outdoor Gas Pizza Oven – Portable Pizza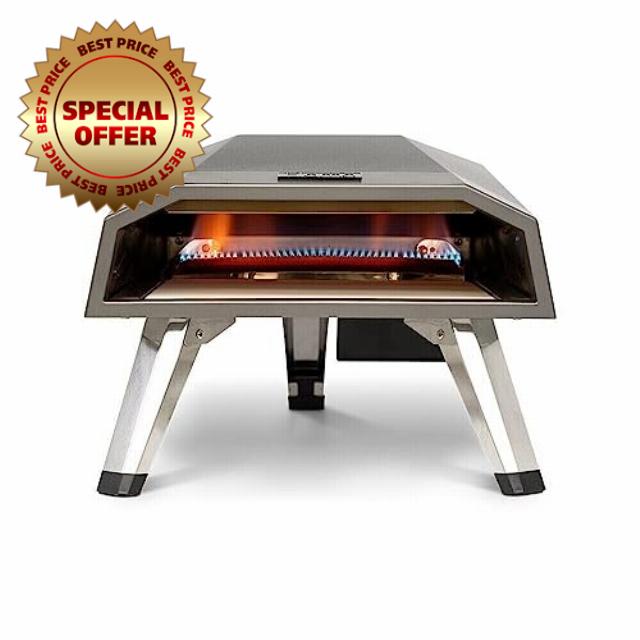 iBuyer 12″ Outdoor Gas Pizza Oven – Portable Pizza Oven Outdoor – 1 Free Pizza Peel, 1 Free Infrared Thermometer & 1 Free Pizza Cutter Included – Outdoor Pizza Ovens (Black)
Portable – Our 12" outdoor gas pizza oven is designed to be compact & portable, allowing you to take it anywhere you want, making it perfect for picnics. Enjoy delicious, authentic pizza on the go.
Efficient – The pizza oven uses gas, which heats up quickly & maintains consistent temperatures, ensuring that your pizzas are cooked evenly and efficiently, saving you time & effort.
High Temperature Range – The outdoor pizza oven offers a high temperature range perfect for authentic pizza baking, cooking faster, resulting in crispy crusts while keeping toppings perfectly cooked.
Versatile Cooking – Our gas pizza oven is not limited to pizza, but allows you to expand your culinary horizons by baking other delicious dishes such as bread, roasted vegetables or even desserts.
Easy to Use & Clean: The simplistic design makes using the oven simple, with easy controls & setup. The materials make it easy to clean & maintain, ensuring you enjoy hassle-free cooking experiences.
›
Introducing our amazing 12″ Gas Pizza Oven, a true masterpiece for pizza enthusiasts and home chefs who crave authentic, mouth-watering pizzas right in the comfort of their own homes. Featuring a 12″ cooking chamber, this gas-powered oven is designed to deliver consistent, even heat distribution, ensuring perfectly cooked pizzas every time. The compact size makes it ideal for any home, while still providing ample space to accommodate a variety of pizza sizes, from personal pan pizzas to medium-sized pies. Equipped with a high-quality gas burner, this oven offers precise temperature control, allowing you to achieve the ideal cooking conditions for your pizzas. Whether you prefer a crispy thin crust or a soft, chewy crust, you can adjust the heat to achieve your desired results. Constructed from durable Carbon Steel, ensuring longevity & easy maintenance. The chamber has a cordierite stone, which helps absorb & radiate heat, mimicking the effect of a traditional brick oven. This creates a perfect environment for achieving that coveted crispy crust while keeping the toppings beautifully cooked and flavoursome. Our 12″ Gas Pizza Oven is not limited to pizzas. Expand your culinary repertoire by experimenting with other delicious dishes like flatbreads, calzones, quesadillas, and more. The versatility of this oven makes it an essential addition to any home, providing endless possibilities for creative cooking. In summary, our 12″ Gas Pizza Oven combines convenience, performance, and versatility to bring the art of pizza-making into your own home. Experience the joy of creating authentic, delicious pizzas with this exceptional appliance that will undoubtedly become the centrepiece of your party. Contents: Pizza Oven x 1 1.5M Gas Hose x 1 IGT Clip on Gas Regulator x 1 12" Cordierite Stone x 1 Matchstick Holder x 1 Manual & Recipe Book x 1 Pizza Peel x 1 Infrared Thermometer x 1 Pizza Cutter x 1
| | |
| --- | --- |
| SKU: | B0C8VJK66N |
| Dimensions: | 62 x 40 x 31 cm |
| Brand: | iBuyer |
| Part: | PO1 |
| Colour: | Black |
| Colour: | Black |