Electric Bicycle Waterproof Kit, 48V1000W Rear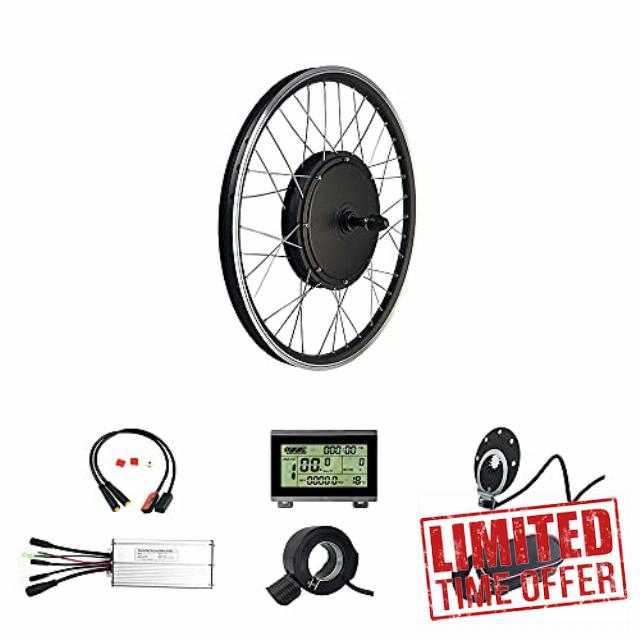 Electric Bicycle Waterproof Kit, 48V1000W Rear Motor Kit, with LCD3 Display, Wheel Size 26 Inch
After-sales service: If you receive the goods and the accessories are damaged/lost, please do not return them. You can contact my store customer service, and we will send you the missing or damaged accessories.
Note: Our products do not contain lithium batteries and inner and outer tires! This electric bicycle conversion kit is a fully waterproof motor kit, please pay attention to whether the connector is tightly connected when connecting. Suitable for bicycles with tire size 26*1.95-2.125.
Controller system: We use the Kunteng control system, please do not change any of the accessories at will, you can consult our store customer service if you have any questions. We use a Hall controller, which can start from scratch quickly and smoothly, and there is no pause when going uphill.
Brake system: We use brake sensor, you can realize the power-off function without replacing the original brake lever. But please pay attention to the installation distance when installing.
Motor: Ebike conversion kit 48V1000W brushless gearless motor with a maximum speed of 35-40km/h. The opening of the rear fork is 135mm, please make sure your rear fork is 135mm, otherwise it cannot be installed.
Installation: Using this product, you can easily convert ordinary bicycles into electric bicycles. This is hundreds of pounds cheaper than buying a new electric bicycle. It only takes 1-2 hours for one person to complete the modification. If you don't know how to install the kit, please find a bicycle store for help, or a friend who can install it. Ensure that the parts are in good condition, so as not to cause the kit to fail to work.
Attention:
About Products:
If you encounter any problems, please contact my store customer service first.
If your kit has been used for some time and suddenly stops working, please do not return it. It may be that your motor plug is immersed in water. Unplug the plug for inspection and dry it. Plug it back in and it will work normally.
Common problem:
(1) You must ensure that the connecting machine between the motor and the controller is firmly connected.
(2) The installation distance of the pedal assist device is about 5mm.
(3) Ensure that the inner core of each plug is not damaged/broken/bent.
(4) Please do not change the display parameters at will, you can use it directly. Before we send the goods, the engineer will set the parameters for you.
Installation:
Please operate according to our installation manual, or you can contact us, we will provide you with the installation video, but the machine needs to be connected correctly and firmly during the installation process to make the product work normally. If it is incorrect during the installation process, the product will not work properly.
After the installation is complete, you can check on the LCD display to see if the error code is displayed on the display interface.
If you can't solve it, please don't make a refund, please contact the customer service of our store! (If you return the goods directly to the Amazon warehouse, this product will not be sold again, and I cannot get compensation. Thank you for your understanding)
The package contains:
1) 48V 1000W Motor Rear Rotate x1
2) 30A controller x1
3) LCD3 display x1
4) Thumb throttle x1
5) E-brake sensor x1
6) PAS sensor x1
7) Motor Cable x1
8) Controller Box x1
9) Gift! Torque arm x1
| | |
| --- | --- |
| SKU: | B08Z3QVTY3 |
| Size: | 26 inch |
| Dimensions: | 59.94 x 59.44 x 25.4 cm; 10.78 Kilograms |
| Brand: | Schuck |
| Colour: | 26 Inch |
| Batteries Included: | No |
| Manufacture: | Enjoy Cycling |
| Colour: | 26 Inch |
| Size: | 26 inch |